Flowers are an important part of any wedding. Whenever we think about flowers, the first thing that comes to our mind is a beautiful bouquet of roses or a beautiful basket of flowers. However, flowers are not just limited to a wedding. There are times when they can be used in different places like at a party, or a dinner. This blog will talk about different types of flowers that start with the letter D.
Flowers That Start With D – List Of Flowers That Name Starts With the Letter 'D'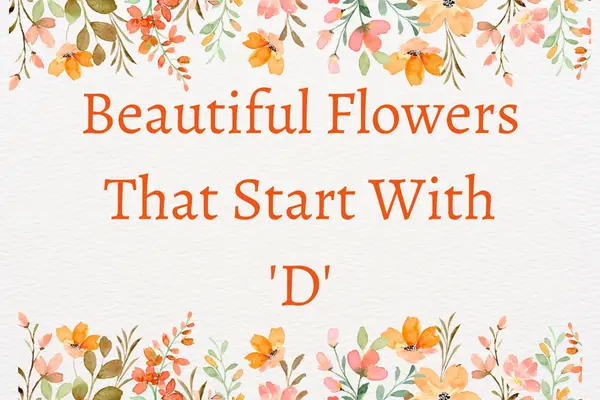 Daffodil
The daffodil is the national flower of Wales and has been associated with that country for centuries. The word daffodil is derived from asphodel, with both words sharing the same Greek root, asphodelos or asphodilus.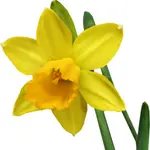 The daffodil's scientific name, narcissus, is also derived from this Greek root. Daffodils are widely cultivated throughout the temperate regions of the world and are a popular garden plant in many countries.
They are also associated with springtime celebrations, such as Easter and the 1st of March, which is known as St. David's Day in Wales. Daffodils are known for their trumpet–shaped flowers, which can be white, yellow, orange, or pink in color. The flowers are borne on leafless stems and are typically surrounded by a ring of smaller, petal–like structures called the corona. The daffodil is a member of the genus Narcissus, which also includes a number of other similar–looking plants, such as jonquils and paperwhites.
Dahlia
The Dahlia is a genus of bushy, tuberous, herbaceous perennial plants native to Mexico and Central America. A member of the Asteraceae or Compositae, dicotyledonous plants, related species includes the sunflower, daisy, chrysanthemum, and zinnia.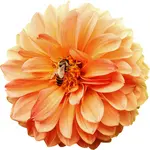 There are 42 species of dahlia, with hybrids commonly grown as garden plants. Flower forms are variable, with one head per stem; these can be as small as 2 in (5.1 cm) in diameter or up to 1 ft (30 cm) ("dinner plate").
This great variety results from dahlias being octoploids—that is, they have eight sets of chromosomes, whereas most plants have only two. In addition, dahlias also contain many transposons—genetic elements that move from one position to another on a chromosome. Dahlias are mainly of interest to gardeners who grow them outdoors in summer beds, and as cut flowers. Some varieties can also be grown in containers.
Daisy
The daisy is a flower that is found in many different colors and styles.
They are most commonly seen in white, but can also be found in yellow, pink, and even blue. The daisy is a very popular flower and is often used in bouquets and as decoration.
Daphne
Daphne flowers are a beautiful and fragrant addition to any garden. They are part of the Thymelaeaceae family and are native to Europe and Asia.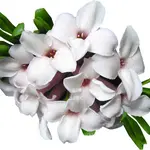 The most popular variety is the Daphne odora, which is also known as the winter daphne. This variety is hardy in zones 7–9 and has dark green foliage with clusters of pink or white flowers that bloom in the winter.
Daylily
The daylily flower is a beautiful and unique flower that is loved by many. This flower is known for its wide range of colors and its ability to bloom for long periods of time.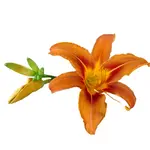 The daylily is a member of the Liliaceae family and is native to Asia, Europe, and North America. There are over 60 species of daylilies and thousands of hybrids that have been created by breeders. Daylilies are very easy to grow and are tolerant of a wide range of conditions. They are a popular choice for gardens and make excellent cut flowers.
Delphinium
The delphinium flower is a beautiful, blue flower that is often used in bouquets and floral arrangements. Delphiniums are a member of the buttercup family and are native to Europe, Asia, and North America. Delphiniums are also known as larkspur.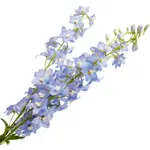 Delphinium flowers are one of the most beautiful flowers in the world. They are tall, elegant, and have a very distinct blue color. Delphiniums are also very popular in bouquets and flower arrangements.
Desert Rose
The desert rose is a beautiful flower that blooms in the desert. It is a member of the cactus family and is native to the deserts of Mexico and the southwestern United States. The desert rose is a hardy plant that can withstand extreme heat and drought. It is a slow–growing plant that can live for many years.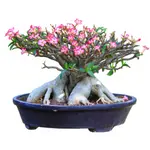 The desert rose has large, showy flowers that are pink, white, or red in color. The flowers are borne on a stalk that grows from the center of the plant. The desert rose is an important plant in the desert ecosystem. It provides food and shelter for wildlife, and its flowers add color and beauty to the desert landscape.
Dianella
Dianella is a genus of six species of perennial flowering plants in the family Asphodelaceae, native to Australia, New Zealand, and Malesia.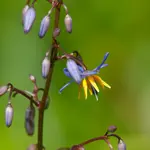 They are herbaceous plants with basal evergreen tufted leaves and terminal inflorescences of blue, violet, or white flowers. The fruit is a fleshy berry. Dianella species are commonly known as blue flax–lilies or flax–lilies.
The name Dianella is derived from Diana, the Roman goddess of the hunt, and refers to the lily–like flowers. The common name flax–lily is derived from the similarity of the leaves to those of the flax plant (Linum usitatissimum). Dianella species are used as ornamental plants in gardens and are also used in landscaping. Several cultivars have been developed for garden use, including 'Cassa Blue', 'Emerald Wave', and 'Variegata'.
Dianthus
Dianthus is a genus of about 300 species of flowering plants in the family Caryophyllaceae, native mainly to Europe and Asia. Common names include carnation (D. caryophyllus), pink (D. plumarius and related species), and sweet william (D. barbatus).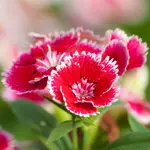 The flowers are mostly double, with a ring of small, fringed petals around a central cup– or tube–shaped cluster of stamens; they are mostly William pink, but white, lilac, and crimson varieties also exist.
Diascia
Dianthus, also called Sweet William or Pinks, comprises a group of about 300 species of flowering plants in the family Caryophyllaceae.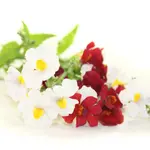 The name is derived from the Greek words for "heaven" and "flower." The flowers are usually pink, but can also be white, red, or purple. They have a sweet, clove–like fragrance and bloom in the spring or summer.