The list of flowers that begin with the letter "F" is provided below. We have concentrated on popular and simple-to-grow types.
Flowers That Start With F – List Of Flowers That Name Starts With the Letter 'F'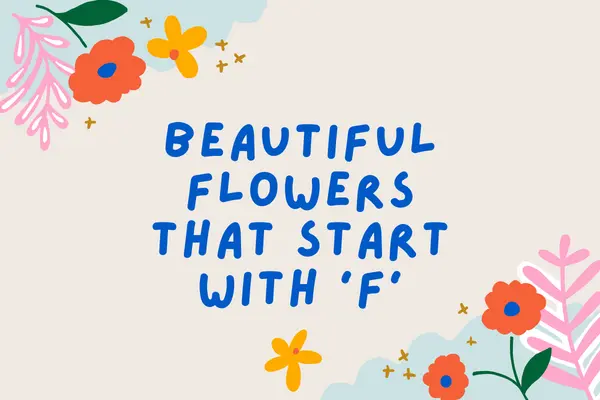 Flannel Flower
The lovely Australian native flannel flower (Actinotus helianthi) gives a touch of tenderness to any garden with its velvety white petals and silvery grey leaves.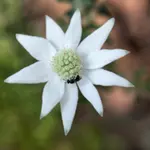 They are a beautiful addition to native gardens planted in broad drifts, rockeries, or cottage gardens. They are ideal for balconies and courtyards because they will grow contentedly in pots. For a striking combination, try pairing them with the delicate mauve blossoms of the local brachyscome daisy. Just stunning!
With the exception of the tropics, flannel flowers are lovely, short-lived natives that can thrive in either full sun or half shade in most of Australia. Since their branches can grow fairly brittle, they are known to endure light frosts and may even benefit from modest wind shelter. Consider them an annual to enjoy throughout the warmer months if you live in a colder climate.
They naturally grow in sandy, coastal areas, and dislike getting their feet wet. This means that in order to avoid rot issues, you must grow in free-draining soil. Mound up the beds beforehand and work some gypsum into the soil to help break up any clay if your soil is not freely draining. Avoid trying to cultivate them on compacted, poorly draining soil and go for pots instead.
Flax Flower
An annual herb called flax is grown for its fiber. The typical flax plant is 3 to 4 feet tall and has thin stalks that are 0.10 to 0.15 inches in diameter when it is grown densely for fiber.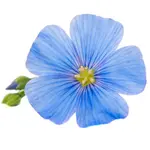 The flax plant has short, lance-shaped leaves that alternate along the stalk. The five petals of the flax plant's flowers, which are usually blue but can also be white or pink, are borne on stems that extend from the tips of the branches. The flax plant's fruit is a tiny, dry capsule with five lobes.
The flax plant is able to adapt to many types of soils and climates, but it will grow best in well-drained sandy loam and in more temperate climates. In most areas, planting flax on the same land is only allowed once every six years to prevent the soil from becoming exhausted. Cooler, moist growing seasons usually produce the most desirable fiber.
Floss Flower
Ageratum, often referred to as floss flower, is an annual, perennial, and shrub that is indigenous to tropical and subtropical regions of North and South America. It is a member of the Aster family, which also comprises 40 species of other plants.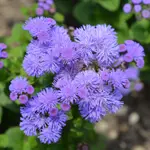 Ageratum conyzoides, popularly known as "billygoat weed," is a very invasive plant that grows naturally in some parts of the Southern US and has herbal and therapeutic properties. Home gardeners have access to ornamental varieties that are grown as annuals and entice pollinators like butterflies, hummingbirds, and insect species.
Forget Me Not
The Myosotis scorpioides, or true forget-me-not flower, is a tall plant with hairy stalks that can grow as high as 2 feet (61 cm). From May through October, charming blue blooms with five petals and golden centers develop on the stems.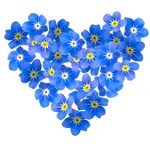 Pink flower petals are occasionally seen. Because they require high humidity and wetness, forget-me-not plants frequently grow close to water sources like brooks, streams, and other bodies of water.
Forsythia
Forsythia is a deciduous shrub that blooms with stunning, four-petaled yellow flowers. In the early spring, these blooms often bloom before the leaves. The forsythia plant has simple, narrow leaves that are borne in opposite directions along the stem. Typically, the plant's fruit is a capsule.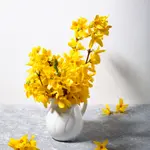 The green-stem forsythia, or Forsythia viridissima, is a native of China and can reach heights of up to 3 meters (10 feet). The greenish-yellow flowers of this plant are its defining feature. Another Chinese plant, the weeping forsythia (F. suspensa), has hollow, pendulous stems that can grow up to 3 meters long and golden-yellow flowers.
Foxglove
Normally, foxgloves reach a height of 45 to 150 cm (18 to 60 inches). On the bottom portion of the stem, which is topped by a tall, one-sided cluster of bell-shaped blooms, they generate ovate to oblong leaves that alternate.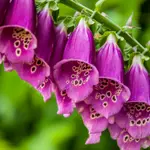 Each flower in the cluster can grow to a maximum length of 6.5 cm (2.5 inches). The blossoms are frequently speckled inside and come in shades of purple, yellow, or white. The majority of foxglove species are biennials, which means that they flower in their second year before dying after sowing. The fruits are dried capsules filled with a lot of tiny seeds.
Both common foxglove and Grecian foxglove (D. lanata), which are commercially grown for this purpose, are the sources of the heart-stimulating chemical digitalis. The dried leaves of these plants are used to make the medication.
Frangipani
Beautiful flowers from the Plumeria (genus) family are frequently used in leis in Hawaii. The frangipani is referred to as Melia in Hawaiian.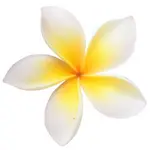 The Apocynaceae dogbane family, which includes roughly 12 species of deciduous shrubs and small trees, is indigenous to the New World tropics. The aromatic blossoms of the frangipani tree can be used to create perfumes. The Mexican frangipani (P. acutifolia), which has yellow flowers with white edges, is a common ingredient in Hawaiian lei.
Freesia
About 20 perennial plant species make up the genus Freesia, which is part of the iris family (Iridaceae). These plants, which are native to southern Africa, are frequently grown indoors in gardens or pots in temperate areas. Additionally, the floral industry relies heavily on its cut flowers.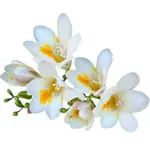 Long, grassy leaves of Freesia plants are produced from underground corms (bulb-shaped structures). Each stem has a wiry spike at the end with lemon-scented white, yellow, orange, and blue blooms. The spikes often develop at a straight angle from the stem and are roughly 60 cm (2 ft) tall. This causes the blooms to arrange themselves horizontally or in a soft arch.
French Marigold
Did you know that French marigolds are popular in gardens because of their vivid flowers? They're also simple to produce and take care of. These annuals that thrive in heat continue to bloom up until the first frost.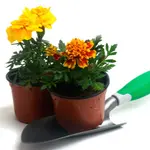 French marigolds are edible and can be used to generate a natural dye in addition to their aesthetic qualities. Why not incorporate these lovely and adaptable flowers into your yard this year?
French marigolds are available in stunning, mellow orange, yellow, and red hues. Some cultivars have a single row of petals, while others have double blooms that resemble pom-poms and are densely covered in petals. Additionally, it seems like a new marigold petal variety or shade is introduced every year!
Fuschia
Around 105 species of blooming shrubs and trees in the genus Fuchsia are indigenous to tropical and subtropical parts of Central and South America, as well as New Zealand and Tahiti.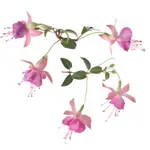 Due to its magnificent pendulous flowers, which can be tubular or bell-shaped and come in colors of red, purple, and white, many species are planted in gardens as bedding plants, tiny shrubs, or examples resembling miniature trees. Some species are also grown in hanging baskets or pots for growing inside or in greenhouses.
The deep reddish-purple hue of fuchsia was named for the genus of the same name. The 16th-century botanist and physician Leonhard Fuchs was honored with the genus name.