Flowers that start with the letter P are some of the most popular ones around. In fact, you can probably name a handful of them without even thinking too hard. To give you a better idea of just how many beautiful flowers start with P, we've compiled a list of lovely specimens for you to enjoy.
Flowers That Start With P – List Of Flowers That Name Starts With the Letter 'P'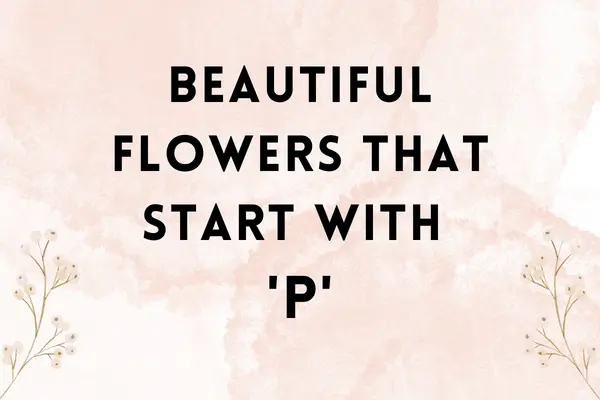 Painted Daisy
A flower that will enliven your garden for weeks on end is what you're looking for. You only need to look at the painted daisy! With a dense core encircled by a ring of petals, the perennial plant's flowers have a traditional daisy-like shape and come in vivid hues of red, pink, or white. The plant is simple to grow in flower beds or pots and has leaves that resemble ferns.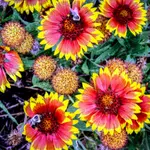 As soon as the risk of frost has passed, plant painted daisy seeds or nursery plants in the spring. The plant has a quick growth rate and starts flowering in late spring, making it a fantastic replacement for bare garden spaces after spring bulbs finish blooming.
Butterflies are attracted to painted daisies, so they make a beautiful addition to butterfly gardens or cottage-style gardens that need a regular supply of color. The stem of the painted daisy is strong, making it a good choice for cut flower arrangements. However, keep in mind that the plant's leaves and sap are poisonous to both humans and animals.
Pansy
A common variety of cultivated violet that has been grown for generations is pansies. They belong to the Violaceae family's Viola genus.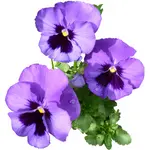 It is difficult to pinpoint their origins because they have been grown for such a long period and under so many diverse circumstances and because they take on so many distinct forms. Domestication led to the development of pansies' numerous varieties, which can come in a wide range of colors.
The pansy is a pretty, heart-shaped flower that comes in a variety of hues, with blue, yellow, and white being the most popular. They give beauty to any garden and thrive in rich soil and a chilly, moist environment. Pansies often have rectangular or oval leaves that emerge from the stem and develop to be between 15 and 30 cm (6 and 12 inches) tall. Any garden would benefit from a splash of color from these lovely blooms.
Passion Flower
Passion flowers are stunning, distinctive-looking plants that offer wonderful beauty to any yard. But did you know that many different species of butterflies rely on them as a major source of food?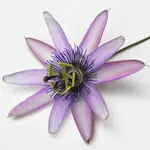 Passion flowers come in more than 500 different kinds, all of which are indigenous to the Americas. Their distinctive blossoms, which frequently have a very ornate design, are where they receive their name.
For their edible fruits, which are frequently used in jams and jellies, many passion flowers are grown. Others are cultivated purely for aesthetic reasons. However, passion flowers are certain to bring a touch of beauty to any landscape, regardless of the motive for cultivating them.
Peace Lily
A tropical blooming plant in the genus Spathiphyllum is the peace lily. Growing the peace lily indoors is popular among those who don't reside in its hardiness zones. There are numerous varieties of peace lilies within the genus.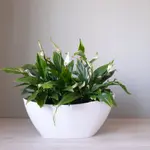 However, these plants typically have broad, glossy, oval leaves. Although the flowering timetable can change when the plants are cultivated as houseplants, they typically bloom in the spring. Two times a year, a robust peace lily may bloom, producing several months' worth of blossoms. In tropical and subtropical regions, it is ideal to plant peace lilies in the spring when the temperature is cooler.
Pelargonium
Largely evergreen and delicate perennials, pelargoniums are frequently grown as indoor or bedding plants. Over a lengthy growing season, they produce breathtakingly beautiful flowers, and their leaves are available in a range of sizes and shapes.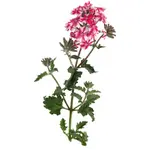 Some pelargoniums have exquisite scents, including rose, peppermint, lemon, and nutmeg. They are simple to grow and are wonderful complements to window boxes, hanging baskets, sunny borders, and containers.
Whether they are in a pot or the ground, all pelargoniums like warm climates to grow. They favor open compost or soil that drains well and may even be stone. When potassium-rich fertilizer is used, most pelargoniums will produce more flowers.
Penstemon
About 250 species of flowering plants in the Penstemon genus, also referred to as the beard-tongue, are indigenous to North America, particularly the western United States.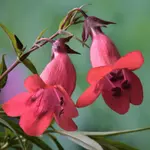 The Penstemon plant often produces enormous, beautiful, tubular flowers that are bilaterally symmetrical. Four fertile stamens and one sterile stamen are present (staminode). The colorful flowers of many species and types, which might be white, yellow, blue, purple, or scarlet, are what make them attractive in domestic gardens.
Penstemons can be grown in full sun to some shade in wet, well-drained soil. Mulch yearly with leaf mold or well-rotted manure, and feed once a week with a summer fertilizer.
Peony
The Paeoniaceae family of flowers includes the peony, which is known for its enormous, spectacular blossoms. Only a few of the about 30 peony species are indigenous to other parts of the world, with the majority being found in Europe and Asia. Numerous peony species are grown as ornamental blooms or for use in the floral business.
Peonies come in three different varieties: North American peonies, Asian tree peonies, and herbaceous Eurasian peonies. Perennial herbaceous peonies have a height range of up to about 3 feet.
They feature broad, lustrous leaves with numerous divisions, and the stems from which the leaves grow are robust rootstocks. These peonies produce huge single and double flowers in the late spring and early summer that might be white, pink, rose, or deep crimson in hue.
Persian Buttercup
Beautiful Persian buttercups are prized for their tall stems, extended vase life, and vividly hued, ruffled petals.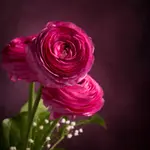 They are a preferred option for florists and bridal bouquets due to the variety of colors they come in, which range from vibrant pink, crimson, and purple to cream, pastel yellow, and orange. Furthermore, nurseries and catalogs make it simple to locate the corms. Depending on the climate, they can be planted in the spring or fall.
Peruvian Lily
Several species of the Alstroemeria genus are referred to as "Peruvian lilies," although the majority of garden varieties are hybrids made by mating two or more species, with A. aurea serving as one of the most popular parents.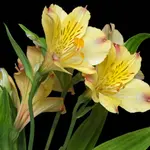 The summer blossoms that rise from the clumps of lance-shaped leaves on these tuberous perennials closely resemble lily flowers even though they are not genuine lilies. The funnel-shaped blooms with warm brown freckles that are frequently used in mixed flower bouquets are among the last to fade.
Petunia
About 35 species of flowering plants in the nightshade family (Solanaceae), known collectively as the petunia genus, are indigenous to South America.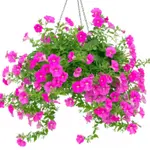 The common garden petunia (Petunia atkinsiana) is a decorative plant that is well-liked for summer window boxes and flower beds because of its eye-catching trumpet-shaped flowers.
Petunias are beautiful annual herbs that come in a variety of hues and forms. Their flowers contain five united or partially fused petals, and they typically have elliptical, stemless leaves. One petunia species, P. exserta, is pollinated by hummingbirds, unlike the majority of petunia species, which are pollinated by insects. Petunia seeds are tiny and are enclosed in a dry capsule.