Here is a list of 10 flowers, all of which begin with the letter O, to add some visual interest to your yard. You're likely to find a plant that piques your interest from our collection, whether you're looking to increase curb appeal or create the ideal outdoor oasis.
Flowers That Start With O – List Of Flowers That Name Starts With the Letter 'O'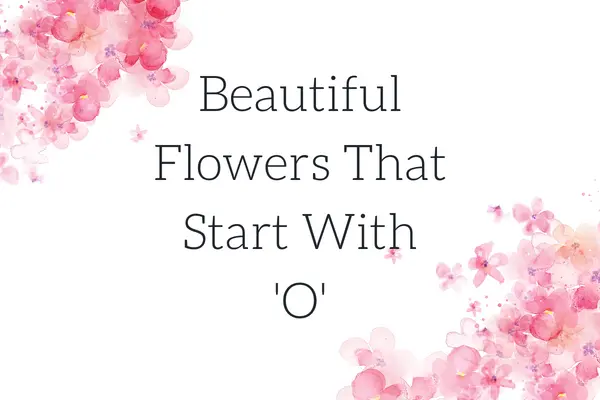 Orchid
Orchids are one of the largest and most widely distributed flower families in the world, with nearly 1,000 genera and over 25,000 species. They are found in wetter tropical regions and are known for their beautiful flowers. The word orchid is derived from the Greek word 'orchis', because of the shape of the root tubers in some species of the genus Orchis.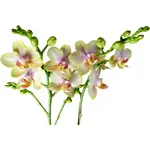 These herbaceous perennials are non-woody and frequently grow atop other plants rather than in the ground. They frequently have a velamen, or spongy root coating, which collects water from the atmosphere. The majority of these plant species can produce their own food, but some depend on decomposing organic matter or a fungus that lives in their roots to survive.
Oriental Lily
The traditional late bloomers are oriental lilies. These gorgeous flowering bulbs continue the lily procession in the garden late into the season by blooming after Asiatic lilies.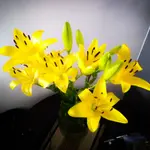 As long as you have a well-prepared spot for bulbs, enough of sunlight, and proper drainage, growing oriental lily plants is not too difficult. These several species and cultivars contain some of the lily family's most beautiful flowers.
Continue reading to discover how to plant oriental lilies for a vibrant, enchanted landscape that blooms around your house. You may take advantage of the beauty of lilies far into the season by using Oriental lilies.
Two of the most well-liked varieties of real lilies are Asiatic and Oriental lilies. Oriental bulbs first appear in August, whereas Asiatic lilies bloom from June to July.
Oriental Poppy
The lovely blooms are known as oriental poppies (Papaver orientale) blossom in the spring and summer. They are available in many hues, but the most common ones are orange, red, and pink. These flowers have an unusual appearance due to their papery, thin petals. 1 Oriental poppy is a fantastic flower option if you're looking to spruce up your garden!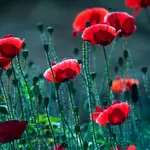 Although there are many different shades of oriental poppies, the most popular ones are orange ('Prince of Orange') and red ('Livermere'). However, there are numerous varieties that come in a range of hues, including peach, maroon, and salmon. A dark spot is typically present at the base of the blossom petals.
Ornamental Onion
Although many of us do not consider onions to be very attractive plants, many people are unaware that onions have some relatives that would look lovely in a flower garden.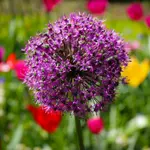 Fast-growing decorative alliums feature circular flower heads with a lot of star-shaped flowers, and they grow tall. Although the leaves of these plants are inedible, when crushed they have a faint onion aroma.
With their vibrant, spherical blossoms, ornamental alliums are ideal for bringing some cheer to your landscape. They are also very resilient plants that can endure both drought and extreme cold.
Osteospermum
Osteospermum has gained a lot of popularity as a flowering plant in recent years. Many people may be curious as to what osteospermum is.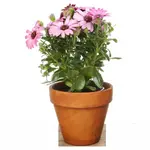 The African daisy is the name of this flower. Osteospermum can easily be grown at home. Instead of paying those expensive florist fees, learn how to care for African daisies in your garden.
African daisies, also known as osteospermum, are native to that continent and do well in warm, sunny environments. African daisies can survive dry soil as long as it has good drainage.
Oyster Plant
In warm areas, the elegant, compact oyster plant (Tradescantia spathacea) can also be grown outside (or brought outside in cooler climates during the summer).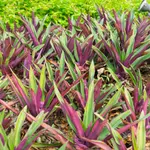 It contains little white or pink flowers that resemble spiderwort blooms, long, lance-shaped, glossy, dark green leaves with purple undersides, and an attractive rosette structure.
Within the same species, there is color variation in the leaf, with some leaves having variegated patterns and others having solid ones. Early spring is the ideal time to establish this plant because of its rather quick pace of growth.
Oyster plants are a fantastic alternative for folks who have little experience growing plants inside because they are simple to maintain and work well in containers.
Although you should keep an eye out for common houseplant pests like mealybugs, scale, whiteflies, and spider mites, this plant is largely free of pests and diseases. This plant doesn't require pruning; just pick off any newly emerging dead leaves.
Ox Eye Daisy
The widespread attractive perennial plant known as the oxeye daisy (Leucanthemum vulgare) belongs to the aster family (Asteraceae). It is indigenous to Europe and Asia but has become domesticated in the US.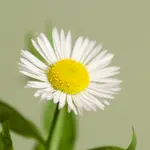 The plant has notched oblong leaves with long petioles and reaches a height of around 60 cm (2 feet) (leafstalks). The 2.5–5 cm (1-2 inches) wide flower heads are complex and have 15–30 white ray flowers encircling numerous yellow disc blooms. also, see daisy
Ocean pearls
A beautiful annual plant known as the "Ocean Pearl" blooms throughout the summer. It has numerous branches and small, gloomy leaves. The flowers are many, white, and have a small dark spot in the middle.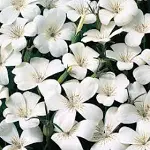 An antique cottage garden flower called Ocean Pearls gracefully combines with cornflowers in the early summer garden. On top of the thin stems and tiny silvery green leaves, it features an abundance of glossy white blossoms interwoven with golden bronze. Sow immediately into poor, well-drained soil in the early spring for simple growth. Deadhead. Poisonous
This plant thrives in arid, well-drained soil with direct sunlight. Due to its slack growth, it will require staking, and deadheading will extend the flowering period. The blossoms can be cut, and bees find them to be appealing.
Orlaya
The White Lace flower (Orlaya Grandiflora) is a stunning Mediterranean native plant. It grows well in olive orchards and vineyards, where it is widely found.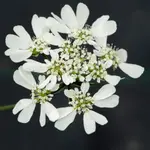 White Lace flower boasts clusters of pure white flowers that resemble lace-cap hydrangeas and gorgeous fern-like foliage. These blooms bloom for a long time, frequently up to the first frosts. Hoverflies are drawn to the White Lace flower, in particular, making it an excellent choice for wildlife gardens.
Sow Orlaya Grandiflora seed in the fall and let it spend the winter in a cold frame to produce early flowering plants. Alternatively, you can plant seeds in the spring that will bloom through the fall. After flowering, allow the plants to self-seed or gather seeds to resow for the crop the next year.
Obedient plant
The false dragonhead, often known as the obedient plant (Physostegia virginiana), is a perennial blooming plant in the mint family. The name of this plant, which is simple to grow, comes from how its blossoms can bend in any direction.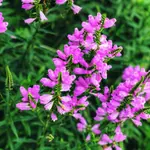 However, because it spreads via rhizomes, this aggressive plant can be quite quick-growing in the garden. Because its flowers resemble snapdragons, it is also known as a false dragonhead.
In the late fall, before there is any snow on the ground, the obedient plant blossoms are sowed. They gently start to bloom from the base of the flower stem upward and should last well into the fall. During the period of the season when there are no flowers, the long, oval, serrated leaves are very unremarkable. Fall causes certain types to become red.